3Hour Custom Guided Tour
The 3HR Guided Trip is very popular at Park City Peaks
10am lunch trip
or
2pm non-lunch trip. (no lunch break, so more riding time).
This trip provides some more trails and higher mountain riding, passengers are permitted.

Higher and longer with a lunch break in between.
Book your tour now!
IF YOUR TRIP IS UNAVAILABLE WHEN BOOKING ONLINE, PLEASE CALL US AT 888.304.7669. We may still have availability when you book by phone.
Tour Highlights Include:
An extra hour to make sure you go home thrilled and a bit tired.
Ride in some high country meadows
Discover more terrain with extra lookouts and untracked powder.
Upgrades to higher powered sleds are allowed (for single riders only, based on availability)
Your adventure is enhanced by highly trained guides knowledgeable in - and passionate about! - the Mountains.
This tour has something for everyone, beginner to intermediate. A highlight of your winter!

What others are saying:
"Amazing experience!"
Why choose this tour?
Park City Peaks 3Hour Trip gets you higher into the amazing Mountains. The highest riding in Utah.
For those who:
Want more riding time.
An extra hour over the 2hr trip, allows you to get higher and deeper.
More riding.
Have a passenger? But want a longer ride? Be ready for some teamwork when you get into deeper snow.
Shifting, leaning and hanging on tight.
More of a workout when the snow gets deep.
Enjoy lunch at 9,000ft?
Lunch at the mid-mountain cabin is a unique experience.
Riding with an adventurous group? Everyone has to be game…
There is usually a wide range of riding abilities so it is best to take a "middle of the road" type tour where you can enjoy the mountain experience as a group.
Plus Choosing the 2Hr Tour may make scheduling a bit easier.
For Large Group bookings, please call our Reservations Office at 888-304-7669 for details.
Important Notes:
RESERVATIONS ARE REQUIRED.
Book Now online or call 888.304.7669.
Drivers must be 16 years old.
Passengers need to be 5yrs old.
Review our complete Participant Requirements.
Each tour time accommodates 7 to 10 Snowmobiles/guide.
Larger groups can be accommodated.
Please review our Cancellation, Refund, and Weather Policies below prior to booking.
Rates:
Starting from:

$299 Driver and an additional $69 for a passenger. Lunch $9

Times:
10am - 1pm (Lunch trip)
2pm to 5pm (non-lunch trip)

Looking for a little longer ride? And lunch at the Lookout cabin?
$299 3HR Guided Tour - On demand only, some trips need 4 snowmobliles to go, (others may already be on the schedule to meet this minimum), limited availability -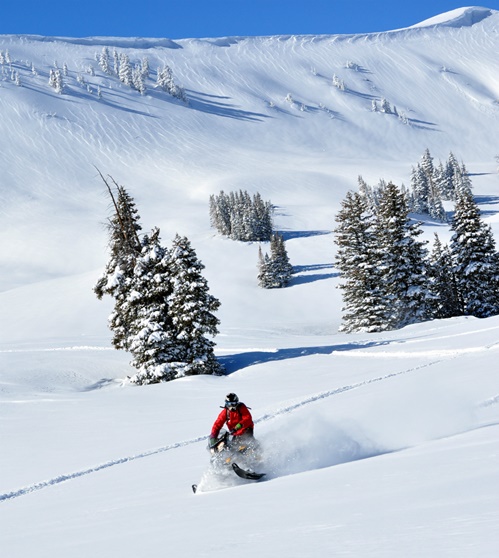 HUGE PLAY AREAS
Wide open river valley
Open it up, room to ride
TRUE LOOPED TRAIL SYSTEM
Don't have to follow your own tracks
Exclusive to Park City Peaks
DOUBLE-UP
Passengers are allowed
Trade off driving (must be 18)
9,000 ft LOOKOUT CABIN
Spectacular Views
Upgrade sled for $39 (18yrs old)
3 HOUR TOUR
Starting from

$299 plus $9 lunch / MORE INFO