2Hour Guided Tour
The 2HR Guided Trip is Park City Peaks most popular trip! Embark on a thrilling, 2 hour adventure on Utah's Largest Mountain Ranch. This tour will send you soaring across open valleys and take you deep into the mountainson Private, Groomed Trails! At the top enjoy spectacular views from the 9,000ft lookout Log cabin.
Book your tour now!
IF YOUR TRIP IS UNAVAILABLE WHEN BOOKING ONLINE, PLEASE CALL US AT 888-304-7669. We may still have availability when you book by phone.
Tour Highlights Include:
Room to Ride! No following your own tracks on 60,000 private acres!
Spectacular views from the log warming cabin at 9,000 feet.
Cover more spectacular terrain than with any other company...Guaranteed !!
Free-ride through the powder in our wide open river valley play area …
Easiest to ride, #1 "Sled of the Year" Ski-Doos
Exhilerating riding on our NEW Ski-doo snowmobiles
This tour offers great views as well as some "sneak peeks" of our "high adventure" trips.
Your adventure is enhanced by highly trained guides knowledgeable in - and passionate about! - the Mountains.
This tour has something for everyone, beginner to intermediate. A highlight of your winter!
What others are saying:
"Amazing experience!"
We had the most amazing time on this snowmobile trip. Our guide Jeff was so good at explaining everything so I felt safe but we still got to see incredible sights. We went all the way up a mountain and I felt like I was on top of the world! Then he let us loose so we could play around in an area. It was such a great time. I highly recommend Park City Peaks!! Michelle D. via Trip Advisor
"Amazing tour!!"

We had never been on a snowmobile before, so we only did the 2 hour tour, and were not sure what to expect. But this experience not only met any expectations we had, but far exceeded them. Not sure how it compares to other snowmobile tours in the region, but we would do this one again ANYTIME. Worth every dollar!! Great guides, awesome trails and views and the ability to go full throttle to get a feel for the snowmobiles was so much fun. - Phil S. via TripAdvisor


Why choose this tour?
Park City Peaks' 2Hour Tour is our most popular... and it definitely gives you some of everything! Off-trial playing, private groomed trails and spectacular views!
Here are a few great reasons to choose the 2Hr Tour:
2Hours is riding is usually plenty if you are beginner to intermediate rider.
Looking for an exciting scenic adventure?
This 2Hr Tour covers more spectacular terrain than any other competitor. Almost double.
You get a lot of riding in when you are exploring Utah's Largest Private Ranch.
You get 1/3 the time playing and 2/3 on trails.
Riding Double? 2hrs is a perfect amount of time riding as a passenger, especially kids.
Riding off-trail with a passenger is tricky so we go where The snow is not too deep.
Haven't ridden much lately? If it has been a year or two since you've been on a sled. This trip lets you blow the cobwebs away as you fly up the valley.
Riding with a group?
There is usually a wide range of riding abilities so it is best to take a "middle of the road" type tour where you can enjoy the mountain experience as a group.
Plus Choosing the 2Hr Tour may make scheduling a bit easier.
For Large Group bookings, please call our Reservations Office at 888-304-7669 for details.
Rates:
Starting from: $239 per driver, $59 per passenger
(Weekends and Christmas are an additional $10)
Important Notes:
RESERVATIONS ARE REQUIRED.
Book Now online or by calling 888.304.7669.
Drivers must be 16 years old.
Passengers need to be 5yrs old.
Review our complete Participant Requirements.
Each tour time typically accommodates 7 to 10 guests.
Larger groups can be accommodated.
Please review our Cancellation, Refund, and Weather Policies below prior to booking.
Rates:

from

$239 Driver and an additional $59 for a passenger.
Looking for a little longer ride? And lunch at the Lookout cabin?
$299 3HR Guided Tour - limited availability - Weekends and Christmas extra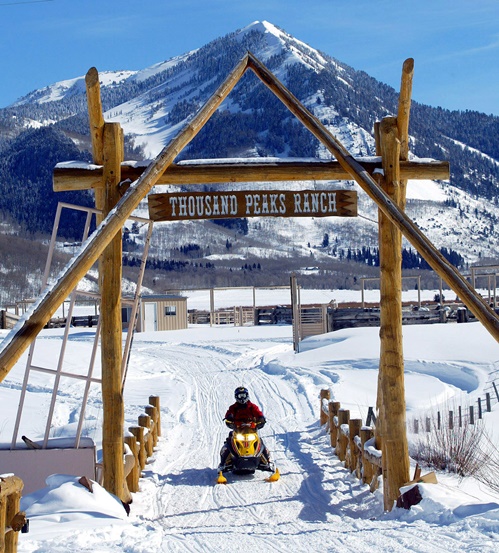 HUGE PLAY AREAS
Wide open river valley
Open it up, room to ride
TRUE LOOPED TRAIL SYSTEM
Don't have to follow your own tracks
Exclusive to Thousand Peaks
DOUBLE-UP
Passengers are allowed
Trade off driving (must be 16)
9,000 ft LOOKOUT CABIN
Spectacular Views
Wildlife
Bring your camera
2 HOUR TOUR
Most Popular!
2 HOUR Guided Snowmobile Trip
Starting from

$239 -Driver $59 - Passenger