Half-Day Lunch Snowmobile Tour
The Half-Day Tour is Thousand Peaks High adventure Trip! For High Adventure no one takes you higher! At 11,000' You get the highest tour in Utah! And an endless sea of private powder.
A True Winter Adventure… Unrivaled, Unforgettable! (single riders )
Whether a seasoned "Sledder" or an adventurous beginner, Thousand Peaks' Half-Day Tour delivers! Fun, thrills, amazing views, a new way to see and experience the deep backcountry, and opportunities to learn and challenge yourself!
5 snowmobile minimum to start a new trip. Others may already be scheduled. Backup is the 3hr trip.
Book your tour now!
IF YOU DON'T SEE A TOUR TIME THAT SUITS YOUR NEEDS WHEN SEARCHING OUR ONLINE BOOKING SYSTEM, PLEASE CALL US AT 888-304-7669. We may still have availability when you book by phone.
Tour Highlights Include:
Your guides will take you high into the backcountry on groomed trails to float through endless powder in huge bowls.
Forget dinky meadows...you're always guaranteed fresh tracks in our "Super Bowl".
Enjoy a deli lunch served in our mid-mountain log warming cabin at 9,000 feet.
Upgrade to a 600cc High performance True Mountain snowmobile... only we've got them!
Your adventure is enhanced by highly trained guides knowledgeable in - and passionate about! - the forest Navitat calls home.
Why choose this tour?
Thousand Peaks' Half-Day tour put us on the map in Utah... and it definitely delivers big thrills! While we suggest experiencing both tours, here are a few great reasons to choose the Half-Day Tour specifically:
Looking for more off-trail riding? Trails are fun but for some, powder is funner.
Novice but adventurous? You don't have to be a pro. The trails are groomed that get you up into the bowls. Once there, you can choose the type of terrain you want to tacke…gentle rolling hills or more aggressive steeper terrain. Riding off trail in deep snow requires shifting your weight around and being a little bit aggressive.
.
For Large Group bookings, please call our Reservations Office at 888-304-7669 for details.
Why are passengers not allowed?
The 1/2 day trip goes to higher elevations and the snow gets very deep. Riding double in deep snow is very difficlut. Also, 4 hours on the back of a snowmobile is more than most people bargain for, especially kids.
$375 for the Driver (sorry no passengers)
$9 for lunch
$39 upgrade to High-performance snowmobile (limited availability)
$375 for the Driver
(Sorry NO Passengers)
$9 For Lunch
$39 upgrade to a High Performance
snowbmobile (limited availability)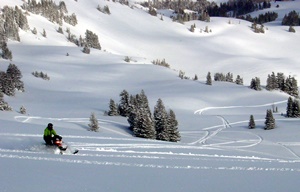 HUGE PLAY AREAS
Huge Powder-filled bowls
Open it up, room to ride
TRUE LOOPED TRAIL SYSTEM
Don't have to follow your own tracks
The Highest Snowmobiling in Utah
Passengers are not allowed
Spectacular Views
5 snowmobile min to start a new trip
Others may have already booked to get min
Bring your camera
4 HOUR TOUR
Epic Adventure
$375 plus $9 lunch